Sideshow Theatre Presents: The Chicago League of Lady Arm Wrestlers (CLLAW) XXVII
July 29, 2017 @ 9:00 pm
$15 – $25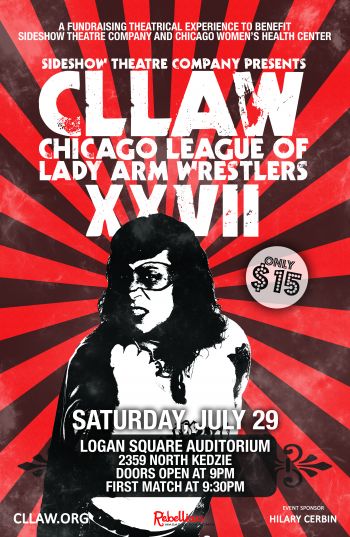 Tickets are ON SALE NOW for CLLAW XXVII!
The Chicago League of Lady Arm Wrestlers (CLLAW) is back on Saturday, July 29, 2017 at Logan Square Auditorium, 2539 N. Kedzie Ave. in Chicago. Doors open at 9pm, first match beginning at 9:30pm.
CLLAW's 27th match will feature Chicago's biggest, baddest lady-identified arm wrestlers and live musical entertainment, and will benefit buy avodart online Chicago Women's Health Centers and Sideshow Theatre Company.
Tickets priced at $15 (with $20 and $25 tickets and half price CLLAWBUX) are available online or at the door (the ladies will gladly take cash or credit at the door). A CASH-ONLY bar is available at the venue order tramadol overnight mastercard with your favorite adult beverage.