Inside Straight Presents: WINTERCAMP FESTIVAL
March 16, 2017

-

March 18, 2017

$25 – $40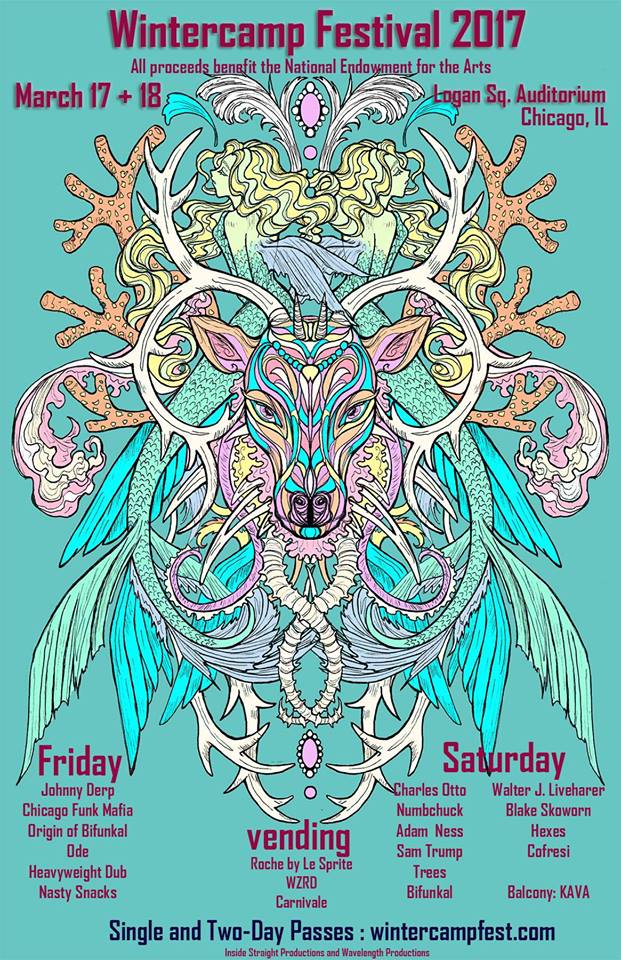 A new festival is in town, and it's time to get down!
Celebrate the end of Winter @ WinterCamp 2017 for two days and two nights at the historic Logan Square Auditorium.
Music from 17 performers on two levels, art installations, vendors, food fromCarnivale, drinks sposnsorships, amazing lightshow from Biolume Productions, official afterparties at The Owl, and more.
PLUS, after the bands get paid, all proceeds go to the National Endowment for the Arts, an organization that has literally helped make this event happen, continues to inspire and educate youth in a positive direction, and faces de-funding.
PERFORMANCES BY:
COFRESI
Hexes
Ode
Nasty Snacks
Charles Otto
Heavyweight Dub
Adam Ness
Chicago Funk Mafia
Walter J. Liveharder
Bifunkal
blake skowron
Sam Trump
Trees
Numbchucks Escapades
KAVA
Origin of Animal
Johnny Derp
Tickets are $25 single day, $40 2-day, and include a drink ticket for each day. That's less than $5 a band plus a cold beer!
LINEUP:
FRIDAY MARCH 17:
7:30 – Johnny Derp
8:30 – Chicago Funk Mafia
9:30 – Origin of Animal as Origin of Bifunkal
10:30 – Ode
buy arimidex uk 11:30 – Ted Sirota's Heavyweight Dub
12:30 – Nasty Snacks
SATURDAY MARCH 18:
5:00 – Charles Otto
6:00 – Numbchuck
7:00 – Adam Ness
8:00 – Sam Trump
9:00 – Trees
10:00 – Bifunkal and Friends
11:00 – Walter J. Liveharder
12:00 – Blake Skoworn
1:00 – Hexes
2:00 – Cofresi
All night playing in the balcony between sets: KAVA