Bassel & The Supernaturals w/ Molehill * The Maytags * Willy Dynomite
February 24, 2017 @ 1:30 pm
$12 – $15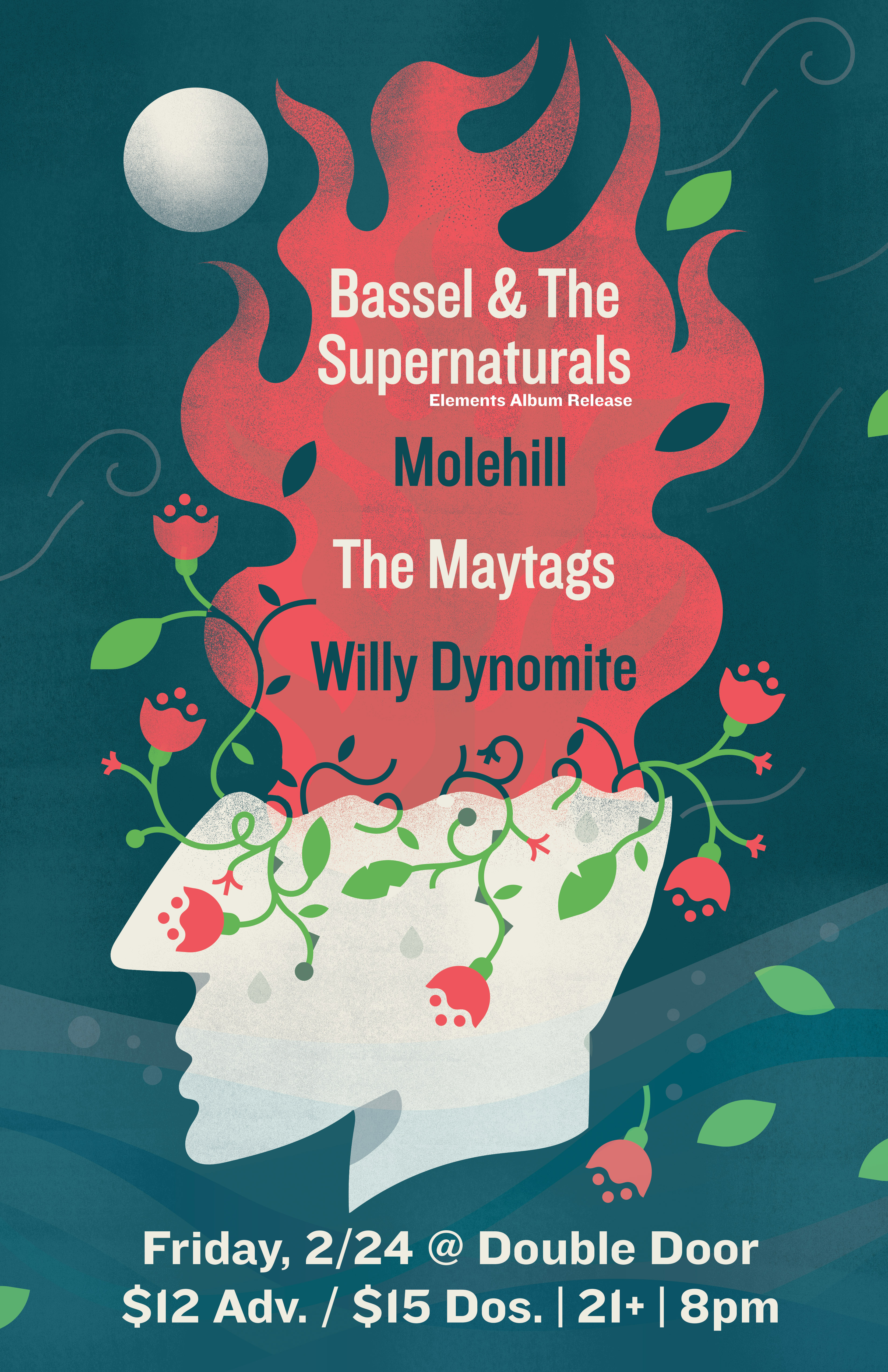 Bassel & The Supernaturals + Molehill [Double Release] w /The Maytags, Willy Dynomite
$12-$15 | 21+ | 8pm
TICKETS
**AVOID FEES**
Purchase will call tickets using either of these links:
@ basselmusic.com/store/elements-album-release
@ molehillmusic.com/product/double-door-2-24
Bassel & The Supernaturals
Bassel & The Supernaturals combines neo-soul and funk with captivating lyrics about love, loss, and a war in Syria that has directly affected Bassel's family along with over 10,000,000 others. With 125+ shows under their belt since the release of their Dreamer EP (2013), the soulful Syrian-American front man Bassel Almadani and his 9-piece ensemble are releasing their first full-length album, Elements. 20% of the proceeds from their album preorder & release will be donated towards humanitarian relief in Syria.

"Bassel Almadani doesn't want audiences to just have a good time getting down at shows. He wants fans to leave Bassel & the Supernaturals shows with a sense of buy ambien online reddit connection and, perhaps, new political awareness. The bandleader of the contemplative indie-funk ensemble is first-generation Syrian-American and has been using the band's shows and releases to benefit humanitarian efforts in war-torn Syria." — Jessica Hopper, Chicago Tribune
Molehill
"Do not be fooled by the name. Molehill is more like a mountain. Combining elements of progressive rock with pop sensibilities and emotionally charged lyrics, this band delivers a symphonic listening experience." – Jesse Menendez, Vocalo, 89.5FM Chicago

The Maytags
"Grew up on the south side / Made friends with the east side / Made love on the north side," Dustin Smith coos as Love Lines, the debut album from his band the Maytags, gathers force like a summer thunderstorm.
These phrases are specific to the cultural geography of the singer, guitarist, and songwriter's Des Moines, Iowa hometown, a music and arts community with a rising national profile highlighted by praise from the Talking Heads' David Byrne and glowing explorations from Politico and The Atlantic. But Smith's words also help evoke the Maytags' journey to this sultry nine-song set, one that also runs through Smith's time in New York — where studied jazz as a drummer — and the band's recording sessions in Tennessee. Other band members have roots in St. Louis; all studied jazz, mainly in central and northern Iowa. If there can be a New South, then there can be a sound that's Midwest Nouveau.
Willy Dynomite
Serving up original sounds since January 2014 our music takes audiences deep into the minds of song writers: Josh Therriault and Stella Steel. Complete with a horn section and a duo of sultry back up singers we'll keep your hands clappin' and toes tappin'.
Josh Therriault has been playing saxophone, clarinet and flute professionally in Chicago since 1996. Heavily influenced by the blues, Josh lends his gritty sound to various projects throughout the city. In 2013, Josh completed a nine month stint as the primary saxophone player for the award-winning "Smokey Joe's Cafe" at The Royal George Theater. You can catch Josh performing on a regular basis with The Opposition Party, ContraBanda, The Morphtet, and of course Willy Dynomite.
Stella Steel (Stephanie Stahl) has been part of Chicago's music scene for 10 years. Originally from Cudahy, WI, Stella moved to Chicago in 2003 to study trombone performance at Northeastern Illinois University. After years of nurturing her inner song writer in 2007 Stella fronted her first band, The Heat Birds until 2011. Stella currently teachers privately at the School of Rock Evanston and as a music teacher at Rogers Park Montessori School. Currently, Stella can be found performing on guitar and vocals with Girlband, The Pryzmatics, Dean of Women, and Reality Bytes.
https://www.facebook.com/willydynomite