Soul Summit Free Dance Party: Guest DJ Skeme Richards
April 15, 2017 @ 4:00 pm
FREE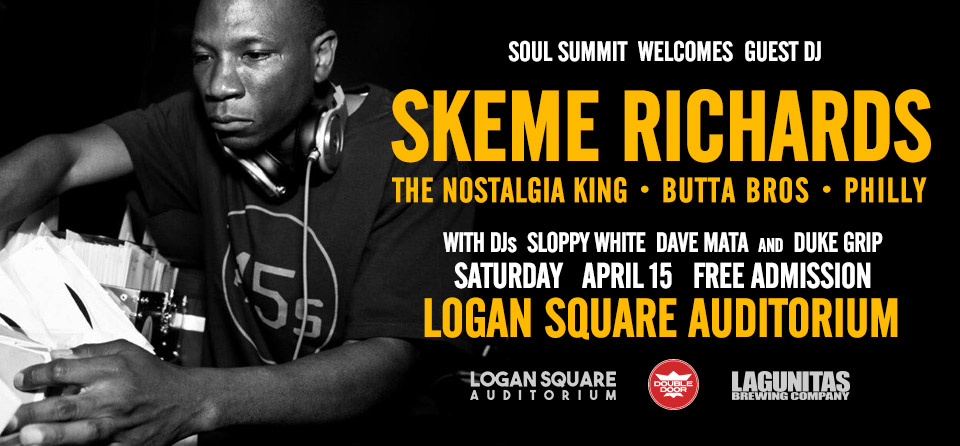 Soul
Summit
In late 2009 after walking around the city and seeing numerous flyers for soul nights. An idea formed. Why not have one night with a delegate from each soul group/crew to celebrate the different types of early soul sounds currently being represented in the city? The idea sprang into action and soon we had three 'residents', Dave Matta, Duke Grip, and Sloppy White. With these three DJs at the core, we also included a rotating roster of guests each month. The original purpose was to challenge attendees with different sounds and to not have a solidified format. Most important, the night is not about the guests but above all the music. With no preference to 'rare' records but records aimed for the dance floor regardless of how rare or common. Soul Summit is not about a 'scene' or alienation. We encourage all people from buy ventolin inhaler online usa walks of life to come listen and celebrate early soul music. Join us every 3rd Saturday night of the month (some dates subject to change) at the Logan Square Auditorium in Logan Square.
https://www.facebook.com/soulsummitchicago


Guest DJ: Skeme Richards
Hailing from Philadelphia a city known for birthing internationally known DJ's such as Jazzy Jeff, Cash Money, King Brit and Rich Medina, Skeme Richards has put in nearly 30 years of DJing, Producing and indulging within other aspects of Hip Hop culture. Diggin and spinning everything from Funk & Soul, Classics, Hip Hop, Breaks, House and all things funky he continuously strives to separate himself from the pack while maintaining a first class status and satisfying his listeners at the same time. Since becoming a DJ for the world famous Rock Steady Crew, Skeme has had the opportunity to play events, parties and festivals worldwide and has mastered the art of keeping dance floors packed by setting the tone early and reading his crowd properly.
Skeme has shared turntable duties with some of the best in the industry including Maseo (De La Soul), Shortkut (Beat Junkies), Tony Touch, Bobbito, Rob Swift (The X-Ecutioners), DJ Nu-Mark (Jurassic 5), Pete Rock, DJ Premier, DJ Eclipse, J.Rocc (Beat Junkies), Miles (Breakestra), DJ Muro, DJ P-Trix, Greg Belson and other highly respected DJ's.
In addition to being a globally known DJ, Skeme has also become recognized in the collectors market as a major collector of Black cinema memorabilia, film posters and other highly sought after items from personalities like Pam Grier, Fred Williamson, Jim Brown, Isaac Hayes, Julius "Dr. J" Erving, Muhammad Ali and the legendary Bruce Lee. These pieces have recently introduced him to the gallery scene which many of his items have been on display for audiences to see.
Recently Skeme has put his efforts into Nostalgia King, an online experience with a focus on Funk, Soul, Jazz, international Soundtracks and independent Hip Hop. In addition to the music itself, NK also takes a serious look at art and film and feature visual artists and photographers from across the globe that continue to successfully carry on a long tradition of creating incredible works by hand, while living in a digital era. As a contributing writer to various music and culture magazines, Skeme Richards continues to reach a wide range of readers across the globe with thought provoking articles, interviews, travel tips and his new food based video series "The Drop – A Conversation Over Beef".
Soul Summit is super excited to welcome Skeme back to the party. He rocked Soul Summit back in the summer of 2013. Not only did he kill it on the decks, but he also laced the party people with a collection of his incredible film archive. Ranging from obscure movies to 60s/70s TV commercials. So come party with us to hear AND see all the awesomeness that is Skeme Richards. LET'S GO!