5th Annual Wintercamp Music Festival
December 10, 2021 @ 7:00 pm

-

11:30 pm

$15 – $50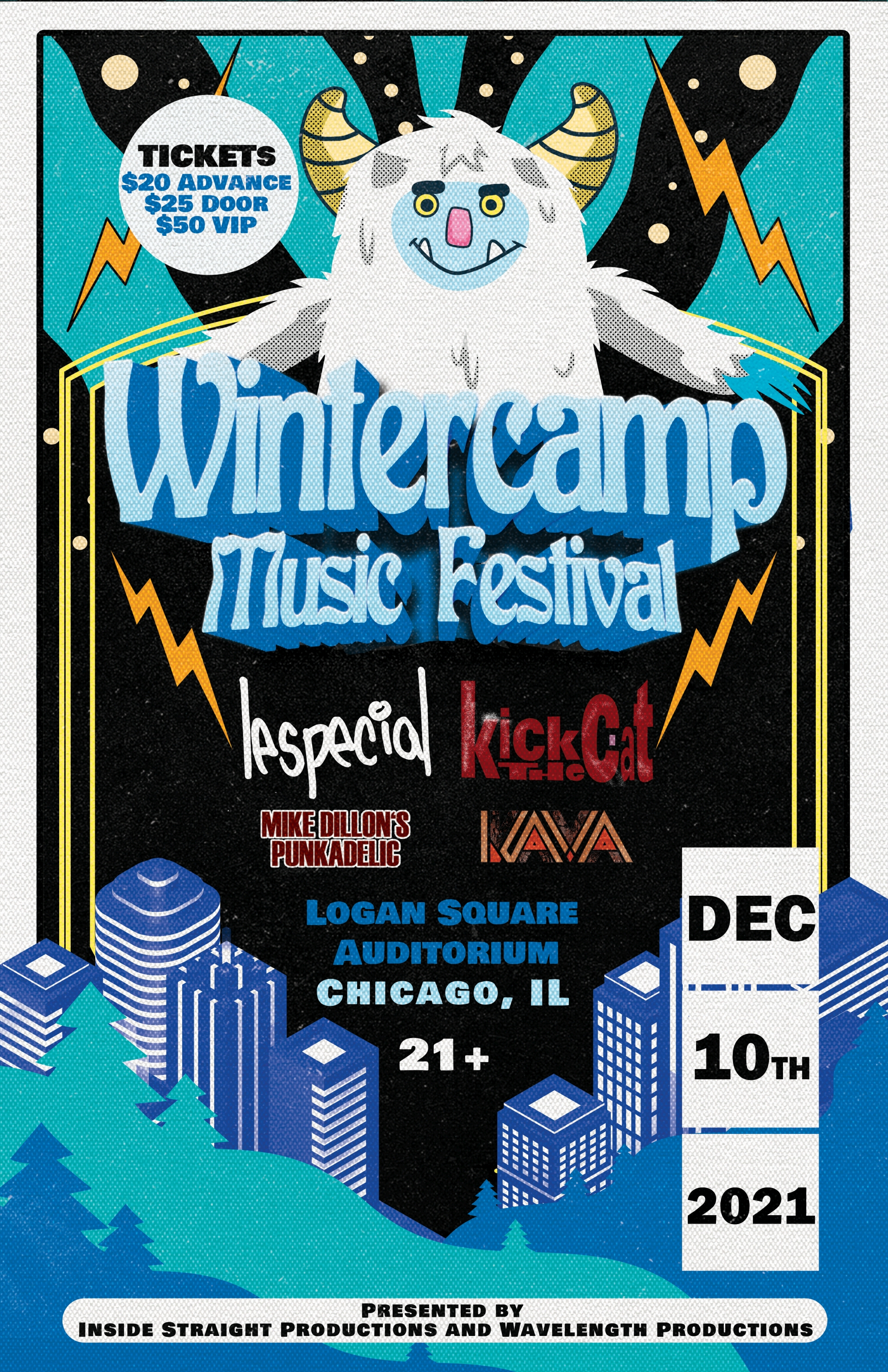 Wintercamp Music Festival returns for its 5th consecutive year at Logan Square Auditorium! Music, art, vibes, vendors and more.
Wintercamp 2020 occurred in February just before lockdowns hit, so we are adjusting the schedule to December 2021, focused on a one-day throw-down we're are proud to say we haven't miss a year (yet!)
This year's lineup is a burner:
lespecial carve their own sonic path in modern music, creating their signature blend of "heavy future groove". The power trio's fresh synthesis of varied and divergent influences doesn't underestimate the listener, reflecting a postmodern cultural climate in which fans have space on their aural palette for J Dilla, Radiohead, King Crimson and Fela Kuti. Veering from hip-hop to metal, prog to house, pensive indie-rock to apocalyptic dub, leaving room for head banging and hip swaying alike, while still presenting a unified sound and vision.
Based in Chicago and Nashville, Kick The Cat is an internationally renowned fusion quartet. Musically, the band falls within the virtuosic lineage of classic fusion and prog ensembles like Return to Forever and Weather Report but draws on contemporary groove elements, electronics, and a healthy dose of humor. The result is a heady, yet approachable, combination of mind-bending rhythms, harmonies, and kaleidoscopic textures.
How many artists have been praised a "punk rock provocateur," "jazz vibraphone visionary," and "percussion virtuoso" in the same sentence? There's only one: Mike Dillon. Whether through his affiliation with artists like Les Claypool, Primus, Rickie Lee Jones, Dean Ween Group and Ani Difranco, and collaborations such as Nolatet, Garage a Trois, The Dead Kenny G's, Critters Buggin or bands he has led, including Mike Dillon Band, Mike Dillon's New Orleans Punk Rock Percussion Consortium, Billy Goat and Hairy Apes BMX, the Texas-native has set his own standard for 25 years now.
KAVA is an interactive psychedelic sound experience that takes a cinematic approach to writing and producing psychedelic music. Since their inception in 2010, Ryan Behling (vocals, bass, keyboards,) Wilson (guitars, synths, effects,) and Marshall Greenhouse (drums, percussions, synths, samples, effects) have taken a unique approach to both their writing and performance style. No two shows are the same and each release has its own sound.